Software:ReAdW
From SPCTools
Revision as of 22:17, 27 October 2010; view current revision
←Older revision
| Newer revision→
ReAdW: Thermo Xcalibur .raw files to mzXML converter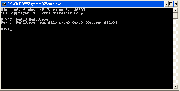 Description
Command-line program to convert Xcalibur native acquisition (.RAW) files to mzXML. The program requires the XRawfile library from ThermoFinnigan. The XRawfile library is installed with the Xcalibur software suite; you must obtain this software from ThermoFinnigan.
Note: This program is no longer supported. Users are strongly urged to use the msconvert program released as part of the ProteoWizard package. For convenience the latest versions of TPP contain this program.
Current Version
ReAdW version 4.3.1 was released on September 9, 2009. The latest release can be always be found at the Sashimi SourceForge release page]
Requirements
Because this program depends on Windows-only vendor libraries from Thermo, this code will only work under Windows with Thermo's XCalibur software installed.
Getting the software
This software is no longer included in the current TPP distribution.
Additional methods for obtaining the software are:
Download from SourceForge Sashimi project file release: [1]
Browse sourcecode from on Sashimi project SVN[2].
Troubleshooting
Xcalibur is installed, but the ReAdW doesn't work
Start menu->run, enter
regsvr32 "C:\Xcalibur2\system\programs\XRawfile2.dll"

Try running ReAdW again.